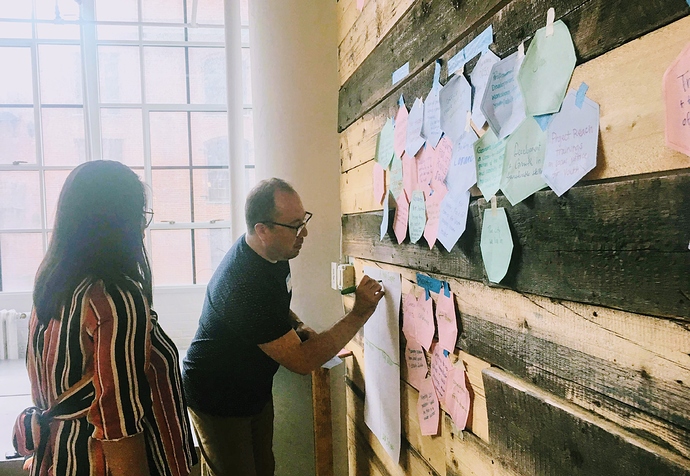 On June 8th, representatives of organizations and communities across the city came together to align on values, build relationships, hear youth voices, build a shared understanding of #NYCEDU, set shared goals, and commit to shared actions.
As part of our gathering, we analyzed the challenges to, resources for, and opportunities emerging for youth led collective impact in New York City. We used the constellation mapping method as developed by CoCreative.
We uncovered these themes:
It is challenging to make youth led collective impact a priority given competing priorities, time constraints, and need for follow-through.
Not everyone is given awareness and consideration due to discrimination.
Youth voice faces barriers from adultist mindsets and organizational structures, but we have the opportunity to amplify a growing movement for youth leadership, work inter-generationally, and create new spaces for youth to lead.
We need sustainable funding and resources, especially to promote equity in access. We do have resources to share with one another, like space, expertise, and knowledge of where funding exists.
Our networks give us access to skilled and diverse individuals, spaces, and partners. It's not easy though, to capitalize on our networks, as communication and coordination are real challenges. However, we have the opportunity to create new structures and ways to communicate that combat systems meant to oppress.
NYC policy is complicated, and the political will to make a change doesn't always exist. However, the following are high target avenues for influencing policy: the mayoral election, the new student voice manager at the Department of Education, the civic engagement commission, Civics 4 All & Service in Schools, the Children's Cabinet, and existing NYC Department of Education collaborators.
There's potential here to really build momentum and scale.
This work is hard. We need to practice self care.
As a result of this analysis, several people are collaborating on ways we can shift some of these challenges and take advantage of these resources and opportunities.
For example, support @kliao86 in creating a resource on Messaging the importance of youth voice! Why is it that youth voice and leadership is absolutely essential to this work?
What about you? What are your reactions to this work?
---
This work is the collaboration of Farzana Pritte, Jamie Lonie, Kyle Liao, Deborah Chang, Brad Whitwell, Caleb Cogan, Dulce Marquez, Leanne Nunes, Nelson Luna, Taylor McGraw, Laura Patterson, AJ De Leon, Kenisha White, Michael Partis, Tyler Rivera, Kadija Koné, Sarah Zapiler, and Rachel Kate Miller. Special thanks to Dulce Marquez, Michael Partis, and Julisa Perez for being members of the organizing team for this event.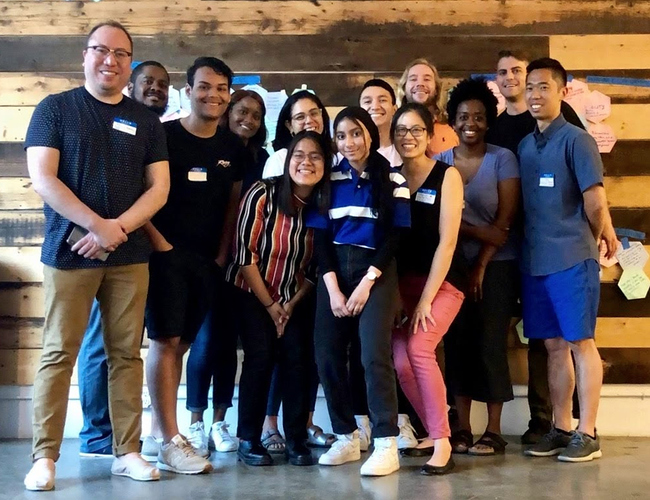 To read all the individual challenges, resources, and opportunities that we identified, click here.

It is challenging to make youth led collective impact a priority given competing priorities, time constraints, and need for follow-through.

Challenges

Competing Priorities
Time to collaborate
<— time!
Managing expectations about what is actually feasible
Needing to respond to immediate issues vs build strategic, thoughtful approaches
commitment + follow through
Meeting 2019 priorities - what's the plan b to ensure success?

Not everyone is given awareness and consideration due to discrimination.

Challenges

Being as equitable and aware of other people
VISIBILITY AMONG PARENTS & COMMUNITY MEMBERS
Discrimination — being taken out of the conversation because of background

Resources

Engagement — speaking & communicating with others to understand perspectives

Youth voice faces barriers from adultist mindsets and organizational structures, but we have the opportunity to amplify a growing movement for youth leadership, work inter-generationally, and create new spaces for youth to lead.

Challenges

Adultism
MINDSETS "It's not obvious to me that we need youth-leadership
Student voice excluded when schools generate goals (CEP goals in NYCDOE)
Rebranding

Opportunities

Giving a chance to the Youth to take initiative who are able to have a voice
Cultural moment (amended in conversation to movement): more youth voices being HEARD
Media attention on youth-led climate organizing
Passing on power & working outside of hierarchies
Create spaces in schools for youth to co-own goals — PD involvement, feedback loops, progress measurement
Inter-generational collab

We need sustainable funding and resources, especially to promote equity in access. We do have resources to share with one another, like space, expertise, and knowledge of where funding exists.




Challenges

SUSTAINABLE SOURCES OF FUNDING
access for all
getting funds
reaching and giving opportunities to the youth that need them the most
EQUITY FOR LESS PRIVILEGED STUDENTS
Lack of institutional buy-in to fund and support collective/systemic impact work
What if not everyone can be in the room due to funds?

Resources

THE FUNDERS COLLABORATIVE ON YOUTH ORGANIZING
Stipends, transportation, emotional/social support
Train passes for youth, food @ events for youth, paying youth leaders
action physical spaces + physical materials (ex. like having this mtg. in this space)
Office space for group gatherings
CORPORATE ORGS CAN POWER

#NYCEDU

EFFORTS
Professional Development Workshops for youth/adult programs
Building deep connections
Project Reach trainings on social justice for youth

Opportunities

Hazen foundation is spending down their $ for youth power
Growing interest from funders -> STRIVE Together, North Star, Einhorn
Grants for students, helping them get outside funding (some colleges will pay students to be part of un-paid internships
jobs
Development & Growth in transferrable skills
Generate/capture a close-to-accurate picture of the expertise that currently exists in this space (e.g. funding training, etc.)

Our networks give us access to skilled and diverse individuals, spaces, and partners. It's not easy though, to capitalize on our networks, as communication and coordination are real challenges. However, we have the opportunity to create new structures and ways to communicate that combat systems meant to oppress.

Challenges

Making needs and superpowers accessible to community of partners that could help or benefit
Redundancy b/c of lack of citywide communication & coordination in organizing & movement building space.

Resources

Networks of advocates
Network of skilled individuals. "I or my org needs help w/ grant writing, design/branding, technical expertise, policy/legal advice
Lawyers (?)/Legal assistance
Our personal/professional networks
NYC-based think tanks and NGOs and other research institutions
Other youth led coalitions. Urban Youth Collaborative. Fair Play. Etc.
School buildings
Digital channels
Model for know solutions to hard problems/best practices. "Ask community if they were able to solve x problem relating to recruitment as an example."

Opportunities

Group of diverse experiences + expertise
Creating new structures & networks that combat systems meant to oppress
Networks and talents. ex. How can a person working in the tech world help center youth voice?
Emerging ways of communication
Create tools that help schools do needs assessment by listening to youth.
ROBIN HOOD LABS ORGANIZING APP DEVELOPMENT
Map who's already investing in this type of work in other cities/countries.

NYC policy is complicated, and the political will to make a change doesn't always exist. However, the following are high target avenues for influencing policy: the mayoral election, the new student voice manager at the Department of Education, the civic engagement commission, Civics 4 All & Service in Schools, the Children's Cabinet, and existing NYC Department of Education collaborators.

Challenges

Different policy levers for public schools + charter schools
POLITICAL WILL TO MAKE A ∆
running into roadblocks b/c NYC as a whole doesn't find/see the value

Resources

NYCDOE Collaborators (central office + district leaders) who can advocate for region-wide youth-led initiatives

Opportunities

Mayoral election
New Student Voice Manager at the DOE
Civic Engagement Commission
Leveraging partnership with Chancellor Caranza at the DOE
CIVICS 4 ALL & Service in Schools
MEETING WITH CHILDREN'S COUNCIL / Cabinet?

There's potential here to really build momentum and scale.

Challenges

Keeping momentum in the movement

Opportunities

Fun Events 4 students from disadvantaged backgrounds
Constructive criticism and the space for mutually beneficial collaboration
a chance to take action ex. rally petition
SCALE MODEL BEYOND NYC IN FUTURE

This work is hard. We need to practice self care.

Challenges

Trauma + the absence of understanding how to take trauma-informed action

Resources

Support with trauma
Thrive NYC
Flora Mind