A theory of change explains how your program achieves specific outcomes. A well-written Theory of Change can help you raise more money, while enabling you to create an overall better program.
Here's an example from Santa Cruz Museum of Art and History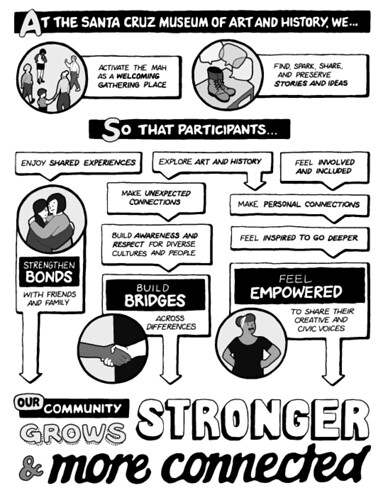 Image Transcription

At the Santa Cruz Museum of Art and History, we…

Activate the MAH as a welcoming gathering place
Find, spark, share, and preserve stories and ideas

So that participants…

Enjoy shared experiences to strengthen bonds with friends and family
Explore art and history to make unexpected connections, build awareness and respect for diverse cultures and people to build bridges across differences
Feel involved and included, make personal connections, and feel inspired to go deeper to feel empowered to share their creative and civic voices

Our community grows stronger and more connected
Project Steps
At Youth Power Coalition, we need to refine our theory of change.
Complete How to Develop Your Intended Impact and Theory of Change Toolkit
Simplify
Visualize
Share
Additional Theory of Change Resources
4.0 Pathways Resource Inventory
How To Build a Theory of Change
Related Projects