This can also be under team-finance and team-community! Because of the money raising aspect of mutual aid, I am going to keep this under team-fundraising.
This conversation was started in a comment thread on a Google Doc for a consultant proposal by MEVVN for our compensation policy.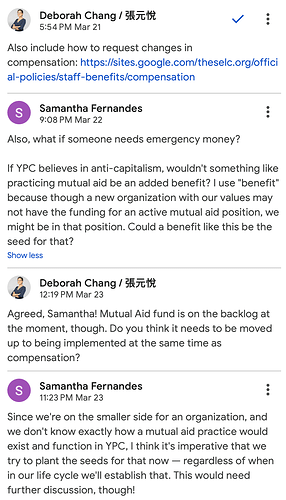 So far there aren't many ideas on my part for YPC having a mutual aid practice at the moment, but that'll change and be updated here. I do know that I need us to have input from indigenous activists and organizations.
We can try to fill the gap and the need for mutual aid as a part of our internal structure. We can also open it up as a fund, but the workings of that are more complicated.
I think it would be better for us to try out an internal mutual aid practice to aid in making youth-led collective impact and activity accessible at home first. After seeing how an emergency/mutual aid fund like that works in YPC, we can go from there. The good thing about us is that we can open it up to other members, organizations, etc… in our network.
Thoughts? I want to open this to non-fundraising circle members in YPC, too — figuring out our thoughts and needs about this.